Today's college town restaurant/bar recommendations takes us to a remote Pennsylvania oasis on Interstate 80, known to all as Penn State University, and to a much smaller subset as Ty Hildenbrandt's alma mater. Indeed, State College was my home for four of the best years of my life, and along the way, I learned a thing or two about the local flavor.  Verballer Ryan will pinch hit with a few suggestions as well.
How cool is it that Penn State actually has its own on-campus creamery?  During my days as a student, the Creamery was located in an older building; now, it has its own state of the art structure about a block or so closer to Beaver Stadium.  In the words of Verballer Ryan: "The best ice cream in the world.  This is not up for debate. Favorite flavors depend on your taste, of course, but 'Alumni Swirl' (vanilla ice cream with swiss mocha chips & blueberry swirl), 'Happy Happy Joy Joy' (coconut ice cream with roasted almonds and chocolate chips) and 'Death by Chocolate' (chocolate ice cream with chocolate flakes, fudge pieces, and chocolate swirl) are all amazing."
I would also add that 'Peachy Paterno' is a crowd favorite.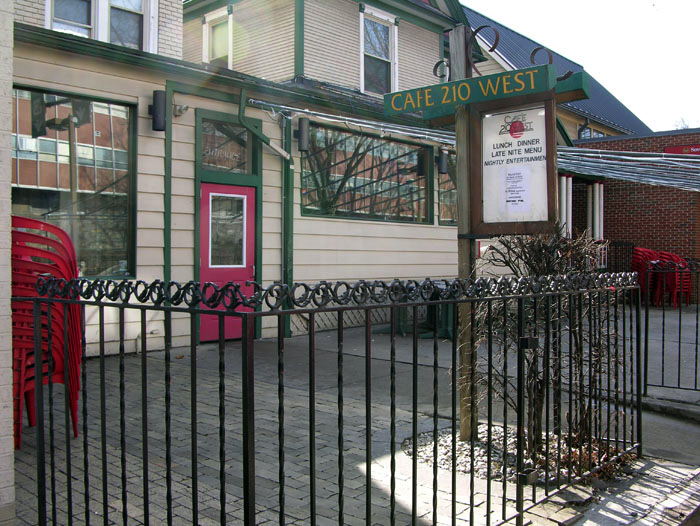 There is no better place to celebrate a great college atmosphere than on the front patio at Cafe 210 West.  When national broadcasters roll into State College, you can always count on some b-roll footage of the Cafe making its way onto the telecast.  As with most of the popular spots in town, the Cafe gets packed, especially on football weekends.  Your best bet for a good time is to stop by for lunch on a Friday afternoon after you roll into town — hang out on the front patio along College Avenue, enjoy some great food, and take down a Long Island Iced Tea (or five).  If you do find yourself lingering here at night, you'll be able to take in some live music in the back of the bar.  A local group — JR & Natalie — has played here for years and is pretty popular among the students (or, at least, used to be).  JR has gone through a number of female vocalists over the years and remains the only musician in America insistent upon covering "Strawberry Wine" by Deana Carter, at least once per show, for no good reason.
Again, the words of Verballer Ryan: "The ultimate hangover cure. Great, buttery omelettes,fluffy pancakes, perfectly done home fries and yes, those waffles, with about as good a calorie-to-cost ratio as you'll find. Three things to know: Do NOT go the one one downtown — the "originals" are both about a four-minute drive from campus; they only take cash.  And if you get there on a weekend morning after about 8:45 (especially on the Sunday after a home football game) be prepared to wait. It'll be worth it."
In the land of dingy, dirty, college bars, the Skeller may be king.  That said, it's been a Penn State landmark dating back to 1933, and according to something called Complex Magazine, it's the 15th best college bar in the country.  This place has a rowdy charm to it in that it sells cases of ponies to patrons and looks the other way when drunkards revel atop tables.  A fun place to go with a group of guys, but not so much with the missus if you're looking for a quiet meal.  On a more personal note, the Skeller has intrinsic value to me for two reasons: (1) It was here that I spiked my cell phone to the ground, shattering it into a million pieces, after Notre Dame lost to BYU in the opening week of the 2004 season; (2) It was also here that I cornered former defensive back Rich Gardner and asked him if he had stolen the awkward speech he gave on diamonds in a Speech Communications class that we shared.
Home of the famous Grilled Stickies, The Diner is another State College staple, and a popular late night option if you're not feeling the one-dollar pizza slices at Canyon Pizza.  I've always been a glutton for the mac and cheese here, which contains enough calories to kill a small horse.
From Verballer Ryan: "About an eight-minute drive from campus, a really good brew-pub that usually has a half-dozen of its own beers on tap, along with a solid menu (sandwiches, burgers, and brick-oven pizzas) made almost exclusively with local meat and produce. Special mention here for Elk Creek Cafe & Ale Works, which isn't in State College — it's about a 30-minute drive to the one-stoplight town of Millheim, and you'll pass Amish buggies along the way — but the craft beer and locally grown food are absolutely worth the trip."
For what it's worth, I made reservations and went here for my graduation dinner along with 10 other people.  We couldn't have been happier with the service and quality of the food/beer.  Would definitely recommend this to anybody, especially those staying in hotels along North Atherton Street.
As the website says, it's not just a diner, it's an American experience.  Baby's is an old-fashioned eatery, with a neat little 1950s thing going on.  It's a stone cold lock that anyone over the age of 55 will love this place due to the atmosphere, and if you're looking for a cheap place to get a good burger, you might want to check it out as well.  I've always been partial to the "Whimpy Basket," which is two smaller cheeseburgers and fries for $4.39.
Mad Mex is a small Mexican chain restaurant with nine locations across Pennsylvania and Ohio, perhaps none as vibrant or popular as the one in State College.  Stop by for a giant margarita, which is deceptively strong.  (Mama Hildenbrandt once decided to take down one of these despite the fact that she doesn't really drink.  That worked out swimmingly.)  Mad Mex has progressively become a go-to spot for much of the student body over the last decade or so.
Other hotspots:
The Deli – Good food and strong mixed drinks.
The Corner Room – Another nice breakfast spot in State College.
The Saloon – Go for the signature "Monkey Boy" pitchers, not for the uncomfortable trough in the men's bathroom
The Gingerbread Man – Just because this used to be my favorite hangout back in the day.  Apparently, its not cool anymore and the crowd has shifted down the street to The Lions Den, which is a great place to go if "crowded to the point of a fire hazard" is your style.

View State College Bar / Restaurant Recommendations in a larger map