Throughout August we will be counting down the top 25 teams (as listed here) going into the 2009 season. Today, in my return from the Canadian wilderness, I make the proverbial trip to Stillwater to examine why it is that an orange cowboy with a giant head shoots off an annoyingly loud rifle every 19 seconds. I'm told this signifies something good happening, but if you've ever seen or heard this, you, like me, have your doubts.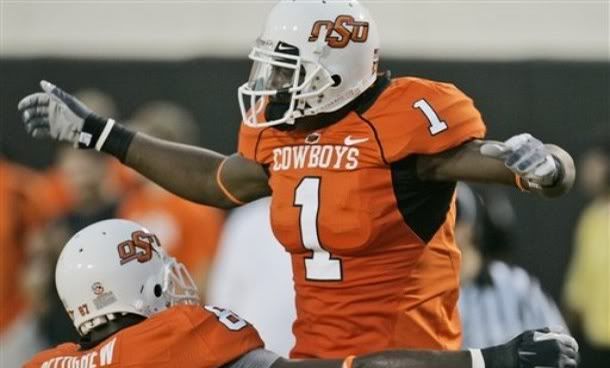 First Impression
Unless the thought new money in college football bothers you, there's very little not to like about Oklahoma State. They run a fairly wide open offensive system with exciting, likable skill players, and just to keep games interesting, they don't tackle very many people when they play decent teams. On a certain level, you've gotta admire that sort of dedication to giving fans as many shootouts as possible. Respek.
I suppose one of the reasons why Oklahoma State seems so likable to me is that they're basically a slightly less polished/physical version of Oregon. The tradition isn't necessarily there, money flows throughout everything OSU, but the difference is that the Cowboys have a local recruiting base, which means Okie State probably has a higher ceiling than the Ducks, no matter what happened in last year's Holiday Bowl. It should be interesting to see what the Cowboys can do in a brutal conference now that they're approaching an even financial playing field.
Last Year
Look at that! 7-0! A win over Mizzou in Columbia! Bring it Big 12 South! Ok .. slow down just a little, please.
There's little doubt that OSU was a top 20 school after the 2008 season, but there's still the pesky reality of a team needing to beat somebody to be a somebody. The Cowboys played five teams that finished in the Top 25, and went 1-4. Not acceptable.
The games against Texas and Oregon were both particularly winnable, while the ones against Texas Tech and Oklahoma were, well, not. Really, though, of all the Cowboys'Â  games against ranked teams, they had only Oklahoma in Stillwater, which should be noted.
People
Well, I'm assuming by now that people are familiar with the Cowboys' big three of QB Zac Robinson, WR Dez Bryant, and RB Kendall Hunter. All are in the top tier at their positions in the conference, if not nationally. You could argue about a dropoff between Robinson and Bradford/McCoy in the Big 12, but going into the season, I see them in the same group.
Beyond the star skill players, OT Russell Okung returns to lock down the left side of the line, and two senior LBs, Andre Sexton and Patrick Levine are solid, but unspectacular. The big loss on offense, other than a starting guard, is losing TE Brandon Pettigrew, who was by far OSU's second best receiving option. The combination of Dez Bryant's ability to stretch the field and Pettigrew's consistent performance underneath was lethal.
The big weakness last season was a major lack of defensive consistency, which in no small part can be traced to the Cowboys inability to pressure the QB. It appears that new defensive coordinator Bill Young sees this as job one, so stay tuned. If OSU can get stops, they're on equal footing with Texas and Oklahoma. Plain and simple.
This Year
Thanks to teams a la Texas Tech, Big 12 scheduling can sometimes take justified hits. Well, Oklahoma State shall take no such hit as they open against Georgia in Stillwater. They dropped the game in Athens two years ago, but both teams were in very different places. Nationally speaking, it's make or break for both teams right out of the chute.
The rest of the non-conference is pretty respectable. Houston and Rice (both bowl winners) should both be decent wins in Stillwater and Grambling State should be a walkover. That said, I'm never a fan of teams just nesting and spending September at home. Not so ballsy, Cowboys.
On that same note, the Fightin' Gundys stay in Stillwater for every meaningful Big 12 game before they go to Norman on November 28th. This isn't to say, though, that Texas A&M or Baylor can't sneak up on the Cowboys – anything's possible when your defense can't get consistent stops.
It appears that a worst case scenario going into the Texas game on Halloween would have the Cowboys at 6-1 or 5-2. Because they gave the 'Horns all they could handle in Austin last season, there's at least some reason to believe that OSU can make the leap this season if they're firing on all cylinders.
Until Oklahoma, the schedule is dotted with ideal matchups (Texas Tech and Colorado at home), with the only road game @Iowa State.
Far be it for me to pick against Oklahoma in Norman, so I won't. Despite what should be another Sooner win, ten wins isn't wholly unreasonable, especially given the schedule.
Conclusion
In a conference dominated by offense, any contender needs to have a passable defense to even dream about a BCS berth. The skill players are great, the line is really good, the defense needs to make a big leap. Once again, you need to stop somebody. Anybody.
Oklahoma State is at their crossroads. Are they more than big numbers and star skill players? Are they Texas Tech North (all offense, occasional forays into conference contention)?
Most good teams have leap years, I see this as being that year for OSU. They've tweaked their D with a new coordinator and they should be able to hang with everyone offensively. Even more importantly, Mike Gundy will finish the year as more than just That Press Conference Guy. Huge.
Prediction
10-2. Oklahoma and a team TBD beats the Cowboys. I'll go with Colorado in one of those tricky November Thursday night games.
Dez Bryant Highlights Set to Music About Hos
httpv://www.youtube.com/watch?v=LQ5uPJGwscU
-Dan