Throughout August, we will be counting down the top 25 teams (as listed here) going into the 2009 season. Today, we break out the pachouli oil, impressive SAT scores, and our loudest protest bullhorns as we take a seat on Tightwad Hill to catch a glance at this year's Cal Bears squad. Somewhere, Adam Duritz is totally feeling our vibe.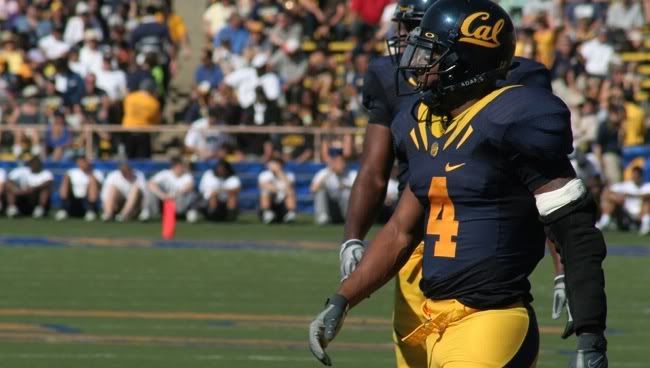 First Impression
Cal is and should always be a good football school. There's a good amount of talent in Northern California and a great amount in Southern California. The school boasts academics that almost nobody else around the country can. God help the entire Pac-10 if they ever get impressive facilities. Could you imagine if they actually cared about the program up there? Yikes. 
Moving on, Cal has become a consistent preseason second tier national program over the last five years, and there are games in which they absolutely deserve it. As good as Jeff Tedford is as a QB guru, QB play has been inconsistent, and at times, downright odd. 
In light of Ty continually calling Cal "Clemson West," eventually they won't have the usual Cal lull, win at least ten games again, and justify the yearly hype. I think. Maybe. 
Last Year
The season started out with a back and forth win over Michigan State (solid scheduling) that highlighted a tremendous running game in which Jahvid Best and Shane Vereen both notched hundred yard games. They then flew east to Maryland and played at what felt like 6:00 A.M., got down early and lost. Quite simply, the Bears weren't prepared and they dun' brain farted in College Park. 
Two painless wins over Colorado State and ASU begat a third quarter at Arizona that may have been the worst quarter played by any Top 25 team all year. UGLY. 28 points later, Tucson chewed up and spit out Cal's case for Pac-10 contention. Woops. 
A win over UCLA led into a sloppy victory in the rain over Oregon. Quarterback play on both sides was abhorrent against the Ducks in Berkeley, and Cal even did all they could to hand the game away, but Oregon refused to do enough to win on a sludgy field. Cal wisely accepted the win and moved on. Clearly, I haven't. 
Cal then lost to the top two teams in the conference on the road (at the time), USC and OSU, before closing out the season with two straight home wins and a home bowl game win over Miami. 
The year was essentially defined by the emergence of Jahvid Best, a surprisingly stout defense (over the second half of the season), and Nate Longshore agonizing epilogue. 
People
The first name in Cal football is now Jahvid Best. He's the most dangerous open-field runner in college football. Luckily, and this is just a prediction, but the Pac-10 will almost assuredly only see him at 75-80% for a good period of time. Simply put, he gets beat up. 
Kevin Riley fully takes over for a (thankfully) departed Nate Longshore. Riley's shown flashes of being really good (see: 2007 Armed Forces Bowl), but has also shown a knack for being really average. Touted RS freshman Brock Mansion has been challenging Riley during the offseason, but Riley has been the consistent #1 at camp.
Every worthwhile skill position guy is back, and the addition of RS freshman Marvin Jones to the receiving corps should add flash to an already decent group (Nyan Boateng, Verran Tucker). 
The big places where the Bears take an equally devastating hit are at center and linebacker. Alex Mack was generally considered to be the best center in the country last year, and Cal's experienced, focused LBs anchored a defense that carried the team throughout the second half of the season. Plus, LB Worrell Williams apparently doesn't like me, so I'm happy he's out of the state. 
The defense will need to get lockdown performances out of Syd'Quan Thompson (9th year senior) and the rest of the secondary, but as stated before, it's a running league this year, so much of the pressure should be off of the defensive backfield. 
This Year
Cal will blow at Maryland the first week of the year. Book it. The very next week, I could see Eastern Washington taking down Cal. Ok not really, but I'll do my best to predict Cal's bonehead loss(es). 
Minnesota has certainly improved, and even though the game is in Minny's new stadium,  the Gophers only seem to beat up on bad teams, which the Bears certainly are not. 
Here's where it get's tricky. Cal gets another road game, this time at Oregon, which is one of their two hugely difficult tests. Lucky for Cal, defensive coordinator Bob Gregory has schemed superbly against Oregon's spread the past few seasons, and the Ducks are coming off of a September schedule that includes games at Boise State and against Utah. Cal finally goes down here. 
It doesn't get any easier the next week, but at least USC comes to Berkeley this year. By this point, USC at home may be more attractive than the Ducks in Eugene, especially since I'll be in Autzen Stadium, giving the Ducks that extra something. Ok, the Dan Rubenstein shoehorning ends here. 
The rest of the season should be fairly easy to navigate: UCLA is better, but still building; ASU can say the same; Oregon State is always able to develop and insert players (and beat Cal); Arizona is tricky but comes to Cal; Stanford is fiesty, but breaking in a new QB; Washington is abysmal. 
Conclusion
Is this the year Ty stops calling Cal "Clemson West?" Maybe. USC is as vulnerable as they'll ever be. The schedule isn't brutal. other than LB, and the middle of the offensive line, there's experience everywhere. That said, there's still a part of me that knows that they'll beat a good team and lose to one, and then they'll beat up on a bunch of lower teams and then lose to one or two. Oh Jeff Tedford, we know ye too well!
Prediction
9-3. They lose to Oregon, USC, and Stanford. I think. Ok, I have no idea, but it feels right. 
Game Highlights Set to Unfortunate Music
httpv://www.youtube.com/watch?v=hdjhyWdEF54
-Dan