Throughout August, we will be counting down the top 25 teams (as listed here) going into the 2009 season. Today, we cut up our t-shirts and don cowgirl hats to celebrate all things Seminole. Luckily, Chief Osceola had this very image in mind when he fought for the freedom and safety of his people in the mid 1830s. Wooooo!!!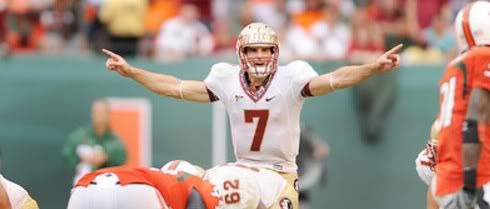 First Impression
Is this the year? It seems like it could be, though you can never truly be optimistic until everyone is positive Drew Weatherford is off campus for good. 
Although things appear to be taking shape in Tallahassee for a leap in '09, I still hesitate to fully get behind the team until some sort of statement is made against a good team. Luckily, Bobby Bowden will take that literally and will continue to make as many verbal statements during his awesome in-game interviews. 
I've always liked Florida State. They used to be able to harness their great mix of scary fast defenders and scary fast offensive skill players, and now they just have those kinds of players that occasionally break free to wreak havoc. If Jimbo Fisher ever gets to take over and puts together a quality staff, the rest of the ACC will immediately go back to fighting for second. 
Last Year
After demolishing two cupcakes, FSU put up a whopping three points at home in a loss to Wake Forest. Seriously. Three points. Christian Ponder and D'Vontrey Richardson went ahead and completed 12 of 36 passes along the way. Woops. 
Luckily, the 'Noles bounced back against four slightly above average opponents and finished out October 6-1, including a win over eventual 10 game winner and conference champion, Virginia Tech. It's a respectable 6-1. 
A brutal game was fumbled away late against Georgia Tech which, mind you, is heartbreaking, but at least it didn't come against Duke. 
Another good win over Clemson was followed by another disappointing home loss, this time to Boston College. Florida State should never lose to BC. Ever. This is the type of game that FSU absolutely needs to rip apart if they're on their way back. 
A solid Maryland road win fed into getting predictably demolished by Florida. The season ended on a high note with the Seminoles blowing out a brat-filled Wisconsin team that looked to be running in slow motion during most of the Champs Sports Bowl. Promising. 
People
No team should ever be able to run consistently on Florida State. They recruit and send too many genetically superior players to the NFL. This year, look for Kevin McNeil and Markus White to be the new names coming off the edge.
As always, though, the returning talent is great (CB Patrick Robinson, LB Dekoda Watson), but consistent play is still needed around them for the 'Noles to even think about ten wins. 
Things on offense should continue to get easier, as FSU may have the best line in the ACC. Unfortunately, they replace Antone Smith at tailback (with Jermaine Thomas), lose their starting two receivers (Preston Parker, Greg Carr), and are still dealing with uncertainty over the identity of the offense. That said, everyone looks better behind an experienced, dominant line. 
It's worth noting that E.J. Manuel sits behind Ponder at QB. Manuel was a huge recruiting get for FSU last season, and although he's still pretty raw, he could see the field situationally. 
This Year
BRUTAL. Six of the first seven games are losable. Seriously. They open with Miami at home, and after another home game against Jacksonville State, they go @BYU, South Florida, @Boston College, Georgia Tech, @North Carolina. Not fun at all. If they're 5-2 to start the year, it's reason to celebrate. 
A road game at North Carolina State leads into road games @Clemson and then @Wake Forest, and the year finishes with the same two teams that it did in '08: Maryland and then Florida (in Gainesville). 
The 'Noles must MUST win at home and steal at least one early on the road. Boston College is beatable and a win at North Carolina should be impressive, especially given the high expectations for UNC. I'd be happy taking one on the road against Clemson or Wake, and finishing 9-3. A 9-3 year is a big deal with this schedule. 
Conclusion
As I said earlier, Florida State won't fully turn the corner and become what they think they should be (again) until staffing is overhauled. It's not to say that Bobby Bowden, Chuck Amato, Mickey Andrews, et al. didn't preside over the greatest era of FSU Football, but eventually everything needs to be overhauled.
Prediction 
9-3, but I absolutely believe in the annual bonehead Florida State loss. It doesn't feel like football season has really started until you do a double take when looking at a Florida State loss on the ACC scoreboard. Ahh, Fall. 
Game Highlights Set to Unfortunate Music
httpv://www.youtube.com/watch?v=l8p5HbtuUdg
-Dan