Beginning today, we will be counting down the top 25 teams (as listed here) going into the 2009 season. We begin with Iowa, whose state bird is the Carduelis tristis, or the American goldfinch. Not a hawk. Go figure.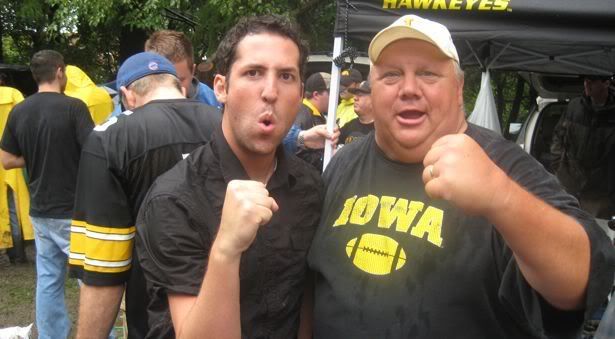 First Impression
Iowa always feels like one of those teams that's either better or worse than expected, which technically makes the Hawkeyes guilty only of not building on previous success or simply underperforming and then performing to their capable level. Even I'm confused after writing that sentence.
Also, does Iowa really need to do everything it can to lock up Kirk Ferentz? Since 2004's 10 win season, Ferentz has fielded teams that have lost 5, 7, 6, and 4 games.  The results are respectable, but not to the point where WE CAN'T LET HIM GO ANYWHERE NO MATTER WHAT!!! Throw in 1 or 20 arrests and you have a pretty dubious crush on a football coach if you're the Iowa Athletic Department. Just sayin'.
Also, Iowa games are tough to watch. Maybe it's because I'm treated to Pam Ward at 9 AM PST calling a 16-13, 30-carry Shonn Greene game against Michigan State, but nobody's accidentally using the phrase "wide open" or "heart-pounding" to discuss these sorts of games that the middle of the pack Big 10 teams always seem to find themselves in.
Last Year
Last season saw a respectable/average finish of 5th, with a big win over Penn State, close losses to the two teams directly above them in the conference standings (Northwestern, Michigan State), and a close loss on the road to a woefully underachieving Illinois team. Beyond that, they beat everyone else – which they should've anyway in a down Big 10. And yes, they missed Ohio State on the Big 10 schedule.
People
Ricky Stanzi, the quarterback who handed the ball off to Shonn Greene a quadrillion times is back. If Jewel Hampton, the new RB (and possible porn star) is able to consistently run behind nearly the same line as Greene did last year, Stanzi will be handing it off to Hampton a quadrillion times.
In a conference chock full of offenses built to control the line scrimmage for 3-5 yards at a time, it's never ideal to lose both starting, successful defensive tackles, as the Hawkeyes have. The linebackers, especially Pat Angerer (awesome, appropriate last name), are very good, but if the middle of the defensive line gets pushed around, everyone immediately looks worse.
This Year
This season shapes up to be fairly ideal, schedule-wise. They have four absolute winnable non-conference games, with the toughest being against a semi-rebuilding Arizona in Iowa City. In a perfect black and gold world, they'll be 3-0 going into Happy Valley September 26.
A cush fourth non-conference game against Arkansas State (still tasting Texas A&M blood on their tongues) is followed by a home game against an improved Michigan team. This is one of those games that will appear to mean more for Michigan, but should mean just as much for a Hawkeyes team looking to fight for that 3-4 Big 10 spot.
They'll lose to either/both Wisconsin and Michigan State on the road (consecutive weeks), but it's not the end of the world, mostly because the pot o' gold at the bottom of the rust belt rainbow is Indiana the very next week.
It's a pleasantly balanced schedule – they miss what should be a drastically improved Illinois team, and finish with Northwestern, Ohio State, and Minnesota. Since only Ohio State (L) is on the road, it's not unreasonable to have them finishing the season winning two out of their last three.
The Conclusion
There's no way this team loses four games again. Say what you will about Kirk Ferentz, but you can't say he's consistently anything. The soft Big 10 scheduling is nice – even probable road losses to Penn State and Ohio State probably won't lead to carryover losses the following weeks. Bring it Arky State Red Wolves!
The Prediction
7-5
The losses come against Arizona, PSU, Michigan, Wisconsin, and Ohio State. Kirk Ferentz is immediately given another extension.
Game Highlights Set to Unfortunate Music
-Dan